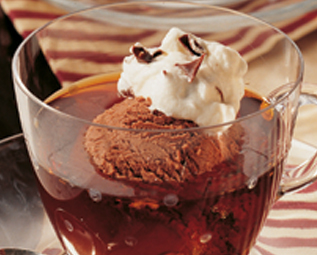 Ingredients:
Create chocolate shavings by running a sharp-bladed vegetable 
peeler over one side of a small semisweet candy bar.
Store any unused chocolate in a self-sealing plastic bag in the refrigerator for up to 3 months.

1 tablespoon chocolate syrup
5 oz of Melitta European Dark Roast coffee
1 scoop chocolate fudge ice cream
1 tablespoon semisweet chocolate shavings
Preparation:
Spoon the chocolate syrup into a large 12-ounce mug.
Brew a 5-ounce cup of Melitta European Dark Roast coffee.

Carefully place the scoop of ice cream in the coffee, sprinkle with the chocolate shavings and serve.